You might be wondering: what will Golden Bear Orientation (GBO) look like? Below are three sample schedules for GBO Spring 2022:  the first is for transfer students, the second is for UCEAP students, and the third is for first year students You will receive a unique schedule from your Orientation Leaders on the first day of GBO with programming specific to your group, as times and locations for events like meals may vary. We hope this sample schedule gives you an idea of what to expect from your orientation experience!
GBO Spring 2022 will be an in person experience, though there will be specific health and safety expectations in place for in person participation. If you have questions about what your GBO experience will look like after reviewing the following schedules, feel free to reach out to us at nss@berkeley.edu.
Updated on October 27, 2021
Health & Safety Expectations
Review the following actions you will need to take prior to GBO Check In to ensure your full access to all of Golden Bear Orientation: 
Schedule your University Health Services (UHS) COVID-19 Surveillance Test Now:

Whether or not you have been vaccinated, you must take a UHS COVID-19 test prior to GBO Check-In. Only UHS tests are acceptable, and advance appointments are required.  As a commuter student, you can take your surveillance test anytime leading up to or the same day as GBO Check In. Appointments may be limited on the morning on January 13th due to Move-In for students in campus housing.

Schedule your test via the eTang portal!

Once you have taken the test, your Campus Access Badge will reflect that you are up to date on your testing requirement. Appointment

times will become available on January 4, 2022 for the week of January 10-14.

Students living in University Residence Halls:

check in to GBO

after

you have completed your surveillance test and moved into your Residence Hall. Follow instructions from Housing on move-in times, surveillance testing appointments, and move-in procedures.

Download Berkeley Mobile App (BK App)

: the Campus Access Badge is housed within the BK App

Campus Access Badge

: tool utilized throughout campus to showcase COVID-19 policy compliance. You will be asked to show a green Campus Access Badge during GBO Check In. 

Daily Symptom Screener: you will complete this each day in the BK App. 

COVID-19 Vaccine Policy Compliance: the Campus Access Badge will indicate whether or not someone is in compliance with the COVID-19 Vaccine Policy. Compliance means either (a) be at least 2 weeks beyond the final dose of vaccine, or (b) received exemption and continued to take weekly surveillance tests. If you are less than 2 weeks beyond the final dose of the vaccine or have received an exemption, you will be required to get tested weekly until you are fully vaccinated.

Upload your vaccine information to the eTang portal now

! 

Surveillance testing

: As noted above, all students must take at least one COVID-19 surveillance test with University Health Services (UHS).
Note
We understand that a model built for so many students will not accommodate every individual; if after reading through the sample schedules below you believe that you will need accommodations during GBO, please scroll to the bottom of this page* to find instructions on how to request these accommodations.
Spring 2022 GBO Sample Schedule (Transfers)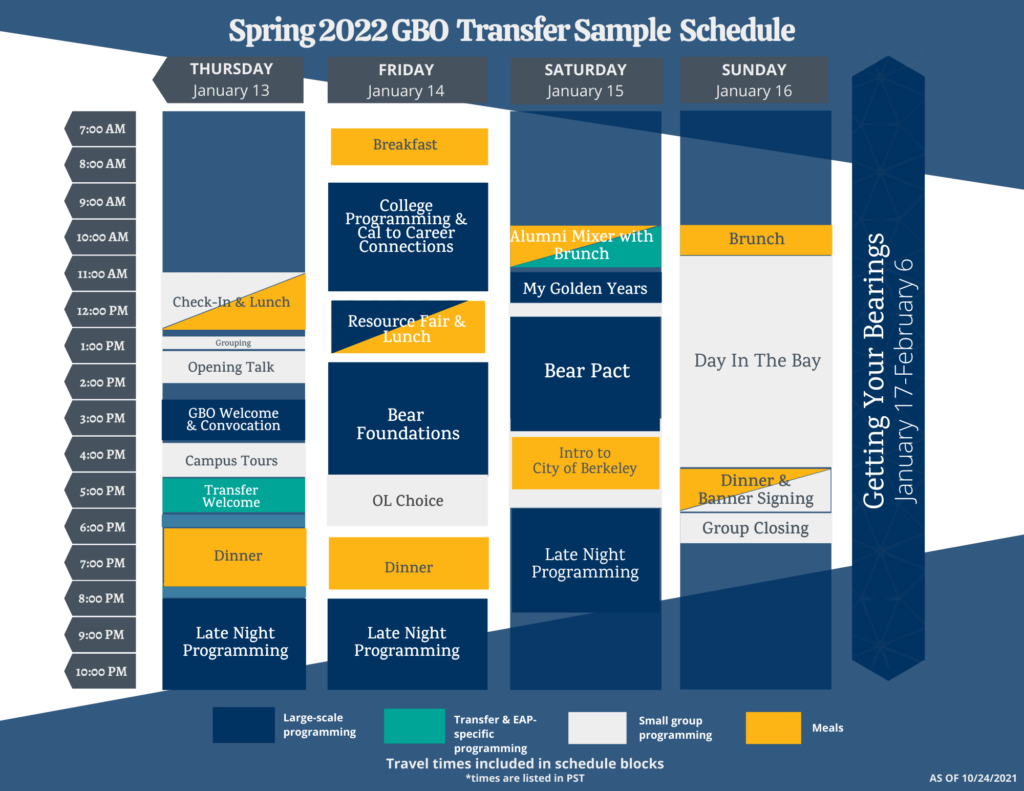 All programming is in PST. Locations will be made available on the Cal Events App.
Spring 2022 GBO Sample Schedule (UCEAP)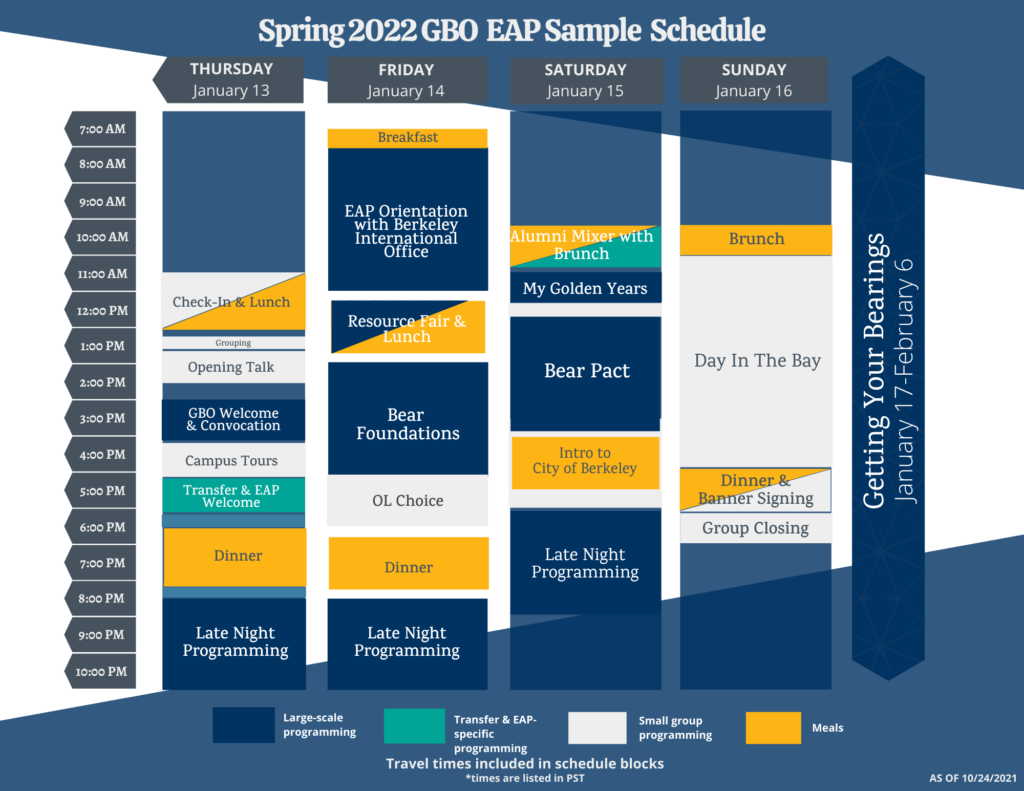 All programming is in PST. Locations will be made available on the Cal Events App.
Spring 2022 GBO Sample Schedule (First Years)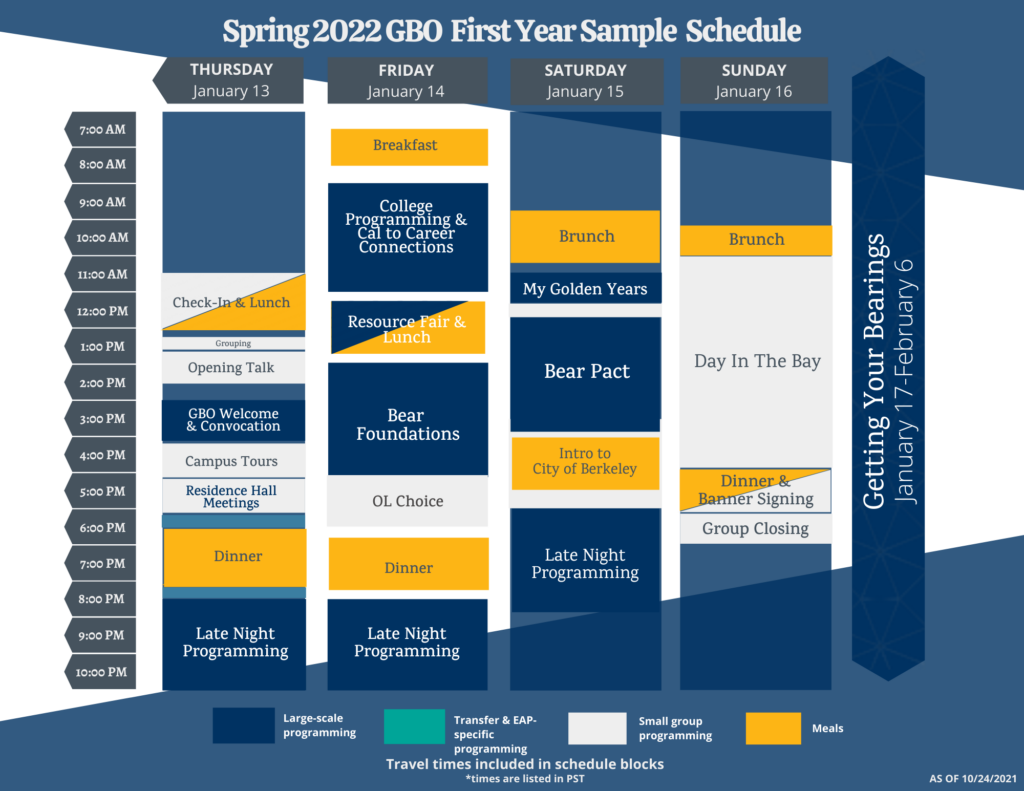 All programming is in PST. Locations will be made available on the Cal Events App.
Thursday, January 13, 2022

11:30am-1:00pm – Check-in/Lunch

1:15-1:30pm – Grouping

1:45-2:30pm – Opening Talk 

3:00-4:00pm – GBO Welcome & Convocation

4:15-5:00pm - Campus Tours 

5:15-6:15pm – Transfer Welcome (Transfer & EAP only)

5:30-6:15 pm- Residence Hall Meetings (Residential students only)

6:30-8:15pm – Dinner 

8:30-10:00pm – Late Night Event
7:30am-8:30am - Breakfast (drop in)

8:00am-12:00pm EAP Orientation (EAP only)

9:00am-12:00pm – College Programming (Transfer & First Year only)

11:00am-12:00pm – Cal to Career Connections (Transfer) 

12:15-1:45 pm – Resource Fair and Lunch Rotations

2:00-5:00pm – Bear Foundations 

5:00-6:30pm – OL Choice

6:30-8:00pm – Dinner

8:30-10pm – Late Night Event
Saturday, January 15, 2022

10:00-11:15am – Brunch and OL Choice (First Years only)

10:00-11:15am – Alumni Mixer and Brunch Rotations (Transfers & EAP only) 

11:30am-12:30pm – My Golden Years

1:00-3:30pm – Bear Pact 

3:30-6pm – Intro to City of Berkeley (includes dinner)

6:00-9:00pm – Late Night Event
10:00-11:00am - Brunch

11:00am-5:00pm – Day in the Bay

5:00-6:00pm – Dinner and Banner Signing

6:00-7:00pm – Group Closing
GBO Check In
GBO Check In will occur Thursday, January 13. Note that all students, regardless of housing status or vaccination status, will be required to complete one test with UHS in order to access campus services, including in person GBO events and classes. Students moving into University Housing will be given a specific move in date and will likely check into GBO the same. 
Chancellor's New Student Convocation
During Convocation, Chancellor Carol Christ and campus administration will formally welcome the incoming class to UC Berkeley. It is an opportunity to unite the incoming class of new students and welcome them to the greater campus community.
GBO Small Groups
Students will engage in dialogue and community building with a small group of their peers and Orientation Leaders.
Meals
During GBO, students will have two meals per day with their small group, with the ability to drop into breakfast on Friday if they so choose. Meals will occur at University Residence Halls and restaurants surrounding campus.
Campus Tours
Campus Tours are designed to acquaint students with campus. Tours will be led by Orientation Leaders (OLs). 
Transfer Student Welcome (Transfer Students Only)
Transfer Student Welcome is a program in partnership with the Transfer Center, with its main goal being to welcome all transfer students to the Berkeley community and to discuss services and resources available to them.
OL Choice
Orientation Leaders will choose activities to personalize their group's GBO experience.
Late Night Programming
Late Night Programming offers opportunities to get to know campus and its surroundings and experience entertainment at and around Cal. More importantly, Late Night Programming allows new students to bond and have fun with their groups and other new Cal students!
College Programming
College Programming consists of programming designed by each college (e.g College of Letters and Science, College of Natural Resources) to prepare students for life in that specific academic environment. During these events, there will be an introduction to your college and more specific sessions centered around what to expect from your college and major.  Check the Cal Events App for specific events related to your major. Note: EAP students should not attend College Programming. 
EAP/International Student Orientation
Berkeley International Office (BIO) will host all UCEAP and International students in a specific orientation and welcome program. 
Cal to Career Connection 
Cal to Career Connection is a presentation put on by the Career Center. The presentation will feature several counselors with expert insights and tips on how you can use the resources of the broader Cal community for career advancement. We recognize that this time overlaps with College Programming and may not be accessible to all. 
Resource Fair
The Campus Department Resource Fair will introduce incoming students to 40+ campus departments, including Berkeley Study Abroad and University Health Services. The fair will be hosted in person and will allow you to connect directly with staff from various campus departments.
Bear Foundations
Bear Foundations is intended to start or continue the conversation of community and identity for new students. SIn this year's virtual format, students will learn about UC Berkeley's Principles of Community, Othering, and Belonging, and reflect on their identity and relationship with campus. New students will recognize that they play an active role in creating a safe and healthy culture at Cal and will leave this program reflecting how to improve their communities at Cal. We want new students to continue their knowledge of exploring stories of identities, intersectionality, community-building through different platforms and media.
Alumni Mixer (Transfer & UCEAP Students Only)
Transfer students will have the opportunity to learn career tips and information from alumni working in different industries. New students will have a specific time designated to them to go to the Alumni Mixer and brunch on Saturday morning. 
My Golden Years
Students will be able to hear from some of our Orientation Mentors about their golden years so far at Berkeley. The goal of My Golden Years is to introduce students to the varied and valuable experiences of Berkeley students.
Bear Pact
Bear Pact is a mandatory performance that will teach you about important issues faced by college students: sexual violence and harassment, related policies, reporting options, and resources, mental health, bystander intervention, alcohol and substance use. Learn about the many ways you can maintain a balanced lifestyle and the resources on campus that can help you in this pursuit. You will also gain strategies to take care of friends, classmates, and roommates.
Intro to Berkeley
This program is designed to familiarize incoming students with the city of Berkeley and understand their role in the community. Students will learn about historical facts, safety, and navigating the City of Berkeley. Through the tour led by Orientation Leaders, students will familiarize themselves with public transportation, safety tips, and some of the great sights and attractions the city has to offer. During this time, small groups will have a meal at one of the restaurants in the Telegraph Ave. area (southside) of campus.
Day in the Bay
Being a UC Berkeley student comes with the additional benefit of being in an incredible area! Join fellow new students as we explore Oakland and San Francisco. Exact excursions will be announced during GBO, but past excursions included SF MOMA, Exploratorium, 90s Experience, Bay Cruise, kayaking, etc. Activities for Spring 2022 GBO will be indoors to account for weather. 
Group Closing
All good things must come to an end, and GBO is no exception. Closing with small groups and Orientation Leaders is an opportunity to wrap up the week and look to the coming semester. The group closing will include dinner.
*Note
We recognize that a model built for so many students will not accommodate everyone. Please read over our policies for more information about participation requirements, and to let us know how we can best serve your needs for orientation.