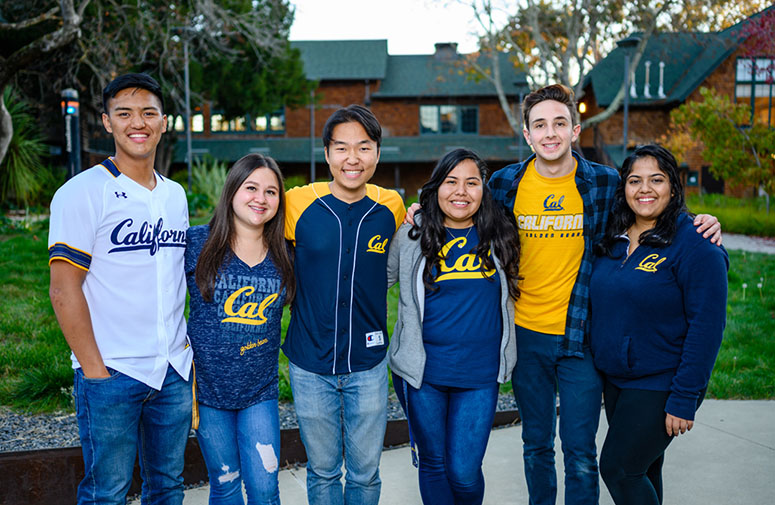 We're glad you want to be a GBO leader; you can gain new experiences in a number of ways:
helping new students feel a sense of belonging at Cal
leadership development
networking and connecting
representing Berkeley and New Student Services
getting campus recognition, and more
"The reason I stayed involved in GBO is because the program is so important for first year students, transfer students, and re-entry students alike to start off their time at this University with a community that will support them throughout their time at Cal." — Nate G., Chemistry & MCB, Orientation Leader, Mentor, Coordinator
Want to be the first to know when the GBO Leader Application is live? Sign up with our interest form:
You can be involved with Golden Bear Orientation in one of four ways:
Orientation Leaders
This is the first step of involvement! If you have a desire to represent UC Berkeley and to grow as a leader, this is a great role for you.
As an Orientation Leader, you are a member of a diverse student team that works collaboratively to welcome, orient, and educate over 9,000 new students to campus. You guide a small group of new students through their GBO experience, helping them explore academic life, involvement, the diverse community, and everything that UC Berkeley has to offer.
"I found my sense of belonging and community after joining orientation. I pushed myself to try and join something on campus where they radiated so much positivity."— Paulina D., Anthropology, Orientation Leader, Mentor, Coordinator
Orientation Mentors
In this mid-level leadership position, you mentor a group of Orientation Leaders as well as train them in leadership development.
Mentors serve as the behind-the-scenes programming crew throughout GBO and are expected to take a two-unit course in the spring as part of their mandatory training. Successful candidates must have been Orientation Leaders or Office Representatives.
"This all started when someone walked up to me holding out a flier and told me, 'You look like a leader.' Being a GBO leader gave me everything the ad said it would." — Marcus P., Political Science & Economics, Orientation Leader, Mentor, Coordinator
Student Coordinators
Student Coordinators, under the supervision and direction of the New Student Services staff, serve as role models to Orientation Mentors and Orientation Leaders, as well as all of the new students.
As a Student Coordinator, you work throughout the academic year and summer to help with all aspects of GBO, ranging from staff recruitment and selection and program planning, development, and execution. Successful candidates must have been an Orientation Mentor.
"I became a student coordinator because GBO has transformed how I view Berkeley, so I wanted to be part of the process that transforms the culture on campus. GBO has become a really inclusive space, but we still have room to grow and make sure everyone on campus feels like they belong in our community." — Renuka G., Economics and Statistics, Orientation Leader, Mentor, Coordinator
Student Representatives
We hire Office Representatives to work throughout the spring and summer to provide quality customer service to incoming students who contact NSS with questions and concerns. They help with general office duties including answering phone calls, emails, making copies, preparing program materials, etc. Successful applicants must have previously worked with New Student Services. Applications are open to previous employees of New Student Services; hiring takes place in the spring semester.
"If there is one thing I know I've done right at Cal, it is being a part of New Student Services and this amazing program." — Elena C., History, Orientation Leader, Mentor, Coordinator