Become an Orientation Leader
As a Golden Bear Orientation Leader, you become part of a team that works collaboratively to welcome and orient new students to the UC Berkeley community. Using your own experiences and perspectives, you will help guide incoming students through a multi-day program in August, helping them explore academic life, campus involvement, and everything that UC Berkeley has to offer. This is a unique volunteer opportunity to:
meet and mentor a diverse, dynamic student group
develop leadership skills
be a positive influence while having fun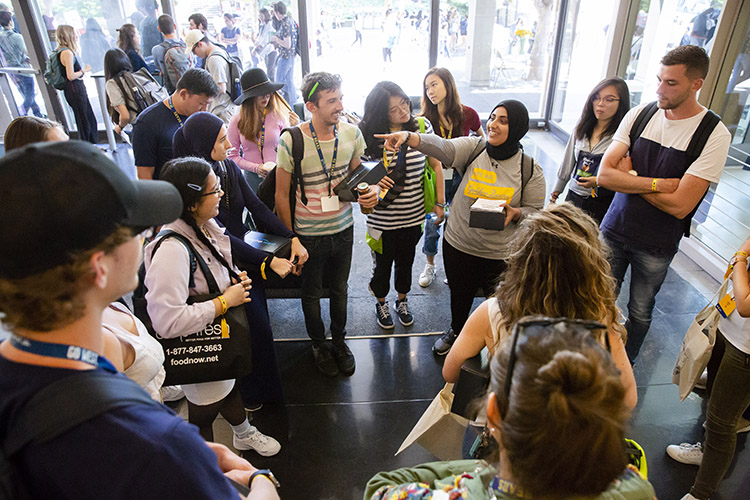 How to Join
Apply for the GBO Leader Position by February 22, 2023.
Benefits for You
There are so many benefits to becoming a GBO Leader. Here are just a few:
Leadership and professional development
Building your skills as a mentor
Extending your "Berkeley family" and learning more about campus resources
Creating memories with the GBO community
Exploring the Bay Area with new students
Attending the Chancellor's Reception
Getting UC Berkeley gear

Important Dates
In-person activities and expectations of all GBO Leaders:
1:1 Supervisor Check-Ins: February 2023 – March 2023
OL Spring Training: April 29, 2023 (full day)
OL Spring Event: May 2023 (Exact date determined by Supervisor)
August Intensive Training: August 12-14, 2023 (full days)
Golden Bear Orientation: August 16-22, 2023 (full days)
Role Description
Serve as a role model for new students by displaying the responsibility and maturity of a continuing student.
Actively participate in all required events, which will be in-person for GBO 2023, including meetings, Orientation Leader training(s), and GBO events.
Facilitate activities and conversations related to Bear Foundations (program on diversity & inclusion), Bear Pact (program on sexual violence and mental health), and other small group discussions.
Work collaboratively with your pair to orient and create a positive experience for incoming students. This year OLs will be allowed to have the opportunity to choose their pair via a mutual selection process.
Create an inclusive and welcoming community for all new students.
Promote full participation for new students in GBO.
Guide students to various locations and program points throughout GBO.
Answer fundamental questions about UC Berkeley.
Be prompt, prepared, and positive.
Be able to work well with a diverse group of people and work styles, and to work both independently and as part of a team.
Be willing to grow both personally and professionally.
Be currently enrolled as an undergraduate student at UC Berkeley.

If you graduate before GBO (i.e. spring or summer 2023), you can still participate as an OL as long as you commit to completing all required responsibilities.

Possess a desire to support student transition.

Demonstrate leadership qualities.

Enjoy interacting with new students, families, faculty, and staff.

Have a passion and motivation to represent UC Berkeley and our community.

Be in good academic standing (hold a minimum 2.3 cumulative GPA).

We encourage applicants to explain any exceptions to this guideline on the OL application form.

Students who have Pass/No Pass grades from the past three semesters may still apply.

Extracurricular activities, internships, and employment may not conflict with OL required dates in the Spring or during August Training and Golden Bear Orientation (see above for exact dates).

Resident Assistant (RA) positions may not be held due to schedule conflicts.
January/February Info Sessions - Please Join Us

Friday, January 27 | 2:30pm - 3:30pm | Memorial Glade

Monday, January 30 | 1:30pm - 2:30pm | Transfer Center

Thursday, February 2 | 4:00pm - 5:00pm | Unit 3 APR

Thursday, February 16 | 5:30pm - 6:30pm | Social Sciences 54

Monday, February 20 | 12:00pm - 1:00pm | QARC's Cecilia Chung Resource Center at Hearst Field Annex (HFA) A15 [SESSION CANCELLED]
For Students Who Are Eligible for a Pell Grant or Dream Act Award

If you are a student who is eligible for the Pell Grant or California Dream Act and you become a GBO Leader, then you are eligible for a $500 grant award.

In order to receive the grant, you must be a GBO Leader and complete all leader requirements. This award is to ensure that all students, no matter of financial situation, are able to volunteer as Orientation Leaders. Please reach out if you have questions or concerns regarding this opportunity: nss@berkeley.edu