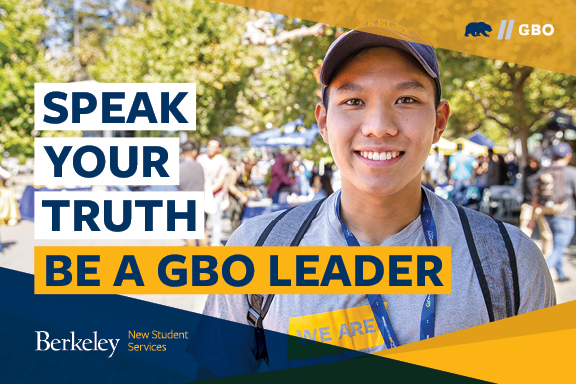 Speak Your Truth as an Orientation Leader
As a Golden Bear Orientation Leader, you become part of a team that works collaboratively to welcome and orient new students to the UC Berkeley community.
Using your own experiences and perspectives, you will help guide incoming students through a multiday program in August, helping them explore academic life, campus involvement, and everything that UC Berkeley has to offer. While we do not know what Fall 2021 GBO will look like, we do know that GBO Leaders are central to new students being welcomed.
This is a unique volunteer opportunity to:
meet and mentor a diverse, dynamic student group
develop leadership skills
be a positive influence (while having fun)
How to Join
Joining the New Student Services family is just one simple step: Fill out the application!
Note: ***The application deadline has passed, but if you are still interested, please fill out the application as soon as possible and email nss@berkeley!***
The application opens on January 5, but fill out the interest form below so we can email you when the application opens. If you want to know more, contact NSS at nss@berkeley.edu.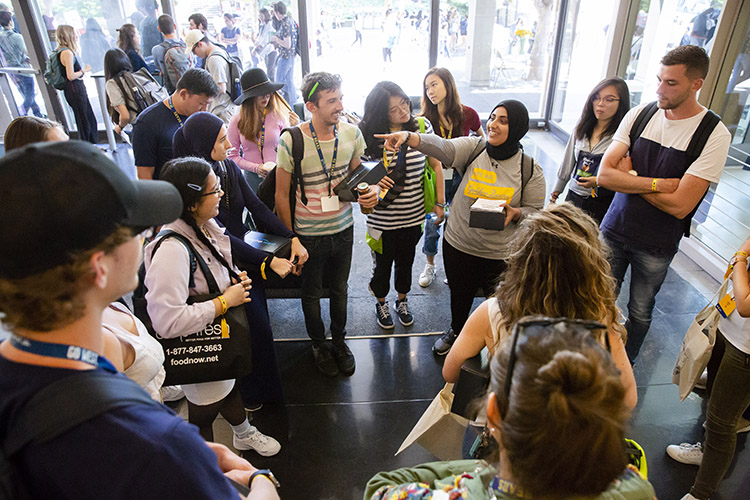 Benefits for You
There are so many benefits to becoming a GBO Leader. Here are just a few:
Career/professional development
Extending your "Berkeley family" and learning more about campus
Exploring the Bay Area with new students
Attending the Chancellor's Reception
Getting UC Berkeley gear
Experiencing those unexpected intangibles and genuine moments of human connection
Important Dates
These are the important dates you need to know to be a GBO Leader:
Feb. 23 to Mar. 19: 25-minute check in with your supervisor
Saturday, Apr 3: OL Spring Training Day 1 from 9 a.m. to 1 p.m.
Apr. 6 to 15: OL Online Modules (will be done at your own pace)
Saturday, Apr. 24: OL Spring Training Day 2 from 9 a.m. to 1:30 p.m.
Aug. 13 to 15: OL August Training from 9 a.m. to 6 p.m.
Aug. 17 to 24: Golden Bear Orientation
Role Description
Serve as a role model for new students by displaying the responsibility and maturity of a continuing student.
Actively participate in all required events, including meetings, Orientation Leader trainings, and GBO events.
Create an inclusive and welcoming community for all new students.
Facilitate activities and discussions.
Guide students to various locations and program points throughout GBO.
Answer fundamental questions about UC Berkeley.
Be prompt, prepared, and positive.
Promote full participation for students in GBO.
During GBO in August, you may not be involved in any other outside commitments, including being a Resident Assistant.
***The application deadline has passed, but if you are still interested, please fill out the application as soon as possible and email nss@berkeley!***  Apply now!
As an office, we believe students should be focusing on being students first and succeeding academically at UC Berkeley. We do have the expectation of a cumulative 2.3 GPA to be an Orientation Leader, but we also understand that everyone has their own unique situation. Also, we understand that students who experience the last two semesters online might have only Pass/No Pass grades while at Berkeley, and that is, of course, allowed to be an Orientation Leader. If you are not in good academic standing, you will be able to explain further.
Be able to work well with a diverse group of people and work styles, and to work both independently and as part of a team.
Be willing to grow both personally and professionally.
January/February Info Sessions - Please Join Us

Want to learn more? Please join us at one of our Info Sessions.

Orientation Leader Info Session #1

Tuesday, Jan. 26 at 6 p.m.

Orientation Leader Info Session #2

Friday, Jan. 29 at 3 p.m.

Orientation Leader Info Session #3

Monday, Feb. 1 at 5 p.m.

Orientation Leader Info Session #4

Thursday, Feb. 4 at 7 p.m.

Orientation Leader Info Session #5

Tuesday, Feb. 9 at 1 p.m.

Orientation Leader Info Session #6

Wednesday, Feb. 10 at 6 p.m.

Orientation Leader Info Session #7

Friday, Feb. 12 at 1 p.m

Zoom Information

https://berkeley.zoom.us/j/7423309900

https://tinyurl.com/GBO2021

Meeting ID: 7423309900
For Students Who Are Eligible for a Pell Grant or Dream Act Award

If you are a student who is eligible for the Pell Grant or California Dream Act and you become a GBO Leader, then you are eligible for a $500 grant award from the Educational Opportunity Program.

In order to receive the grant, you must be a GBO Leader and complete all leader requirements. This award is to ensure that all students, no matter of financial situation, are able to volunteer as Orientation Leaders. Please reach out if you have questions or concerns regarding this opportunity: nss@berkeley.edu