This is a general schedule with some of the programs that are a part of Golden Bear Orientation. You'll receive your unique and personalized schedule from your Orientation Leader when you arrive on campus. We hope this sampling gives you an idea of the exciting programs you'll experience as part of your orientation!
First Day
Meet Your Leader. On the first day of GBO, you will be introduced to your Orientation Leader, who will serve as your guide throughout the week and share with you what your individual group schedule will look like.
Meet Your Group. You will meet a group of fellow incoming students during GBO Grouping. You will experience all of GBO with this group.
Get Your Schedule. Some key events will be included in the Cal Events app, but your entire schedule will be directed by your Orientation Leader.
Get Assistance. If you need help during GBO, including help with name tags/wristbands, visit the 

GBO Help Desk and resource page

.
Large-Group Programs
In general, every day will include meals, large group programming with the entire incoming class, small group discussions, unique programs decided by your Orientation Leaders, and of course, breaks! Here of some of the amazing programs that you can look forward to:
Bear Affair: Located in Memorial Stadium, Bear Affair will bring together the entire incoming class and start breaking the ice! Bear Affair will begin with an all-class photo.
College Days: Your College has designed programming specifically to prepare you for life in that academic environment. College Days are Thursday and Monday of GBO.
Bear Foundations: Bear Foundations will bring together all incoming students to recognize and reflect upon the diversity of UC Berkeley.
Day in the Bay: The San Francisco Bay Area will be your extended home during your time at UC Berkeley, and there are many amazing perks to living here, such as world-class museums, innovative companies, the landscape and environment, and entertainment venues.
Bear Pact: Bear Pact is a mandatory presentation that will teach you about important issues faced by college students: sexual violence and harassment, mental health, and alcohol use. Learn about the many ways you can maintain a balanced lifestyle and the resources on campus that can help you in this pursuit. You will also gain strategies to take care of friends, classmates, and roommates.
Intro to Berkeley: You will have the opportunity to get off campus and explore your new city.
Late-Night Programming: You'll have plenty of fun activities after the days of programming. Examples include comedy shows, dance performances, hypnotists, silent disco, Target trips, and miniature golf.
Programs for Transfer Students
Company Visits: You will visit companies and organizations throughout the Bay Area. The purpose of the company visit is to introduce new transfer students to an industry, company/organization, and the various types of roles within a company (e.g., technology, sales, HR, marketing, research, etc.)
Cal to Career Connection: The Career Center presentation will feature several counselors with expert insights and specific tips on how you can leverage the resources of the broader Cal community for your career advancement.​
Alumni Mixer: You will learn how to network with alumni and professional contacts. You'll then enjoy a networking dinner with alumni, based on industry.
2020 GBO Sample Schedule: Freshmen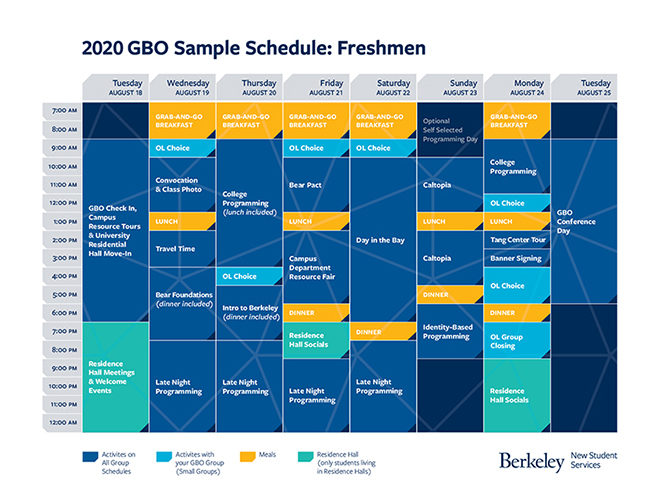 Accessible (Full-Text) Version of GBO Sample Schedule (Freshmen)
2020 GBO Sample Schedule: Transfer On-Campus Resident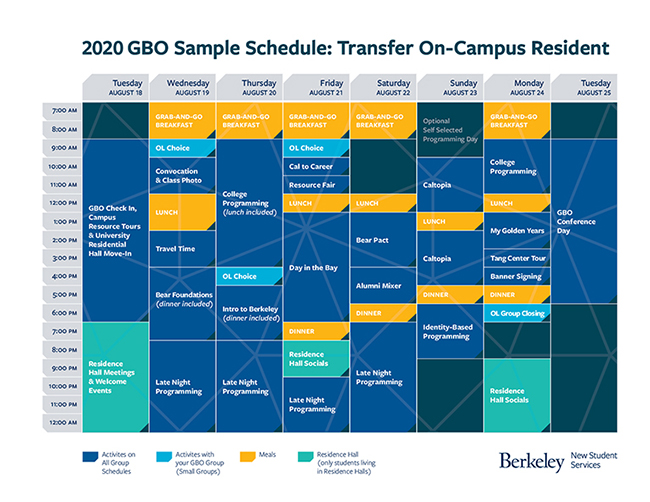 Accessible (Full-Text) Version of GBO Sample Schedule (Transfer On-Campus Resident)
2020 GBO Sample Schedule: Transfer, Living Off Campus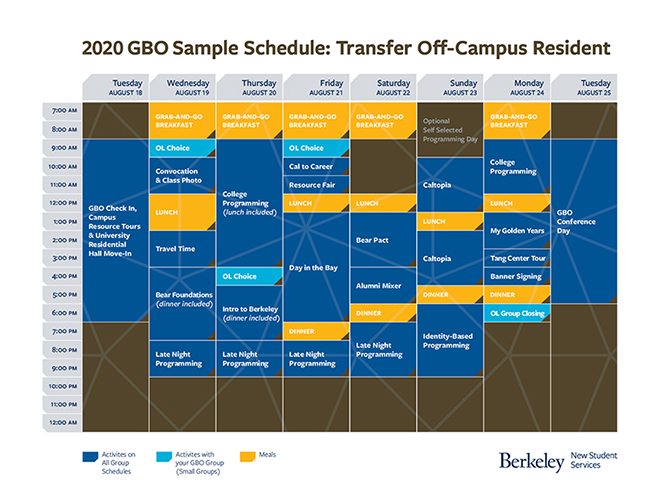 Accessible (Full-Text) Version of GBO Sample Schedule (Transfer, Living Off Campus)